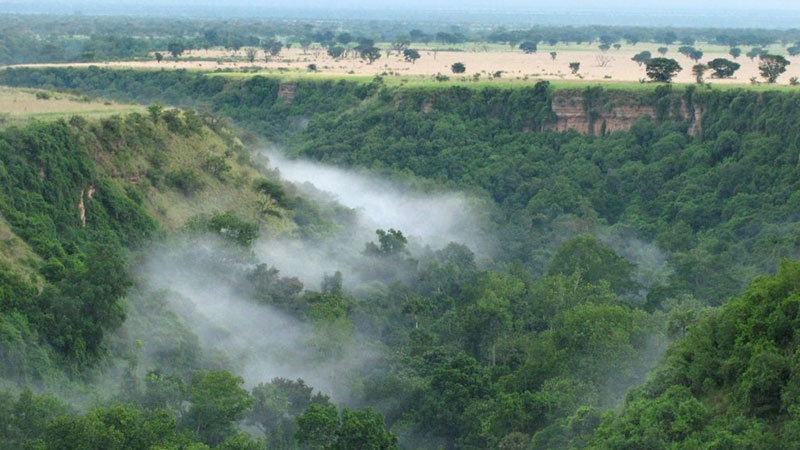 Chimpanzees: this is the only place you will find chimps in Queen Elizabeth National Park, and one of the few sites in Uganda where you can interact with them.
Unique scenery: Kyambura is a sunken underground rainforest surrounded by cascading cliffs and arid savannah, you won't find a landscape like this anywhere else.
Birds abound: Kyambura is a paradise for many rare species of bird.
Biodiversity: there are 13 different habitats to explore each with their unique vegetation and habitats, supporting a huge range of wildlife.
Get close to nature: you can experience Kyambura on foot with guided nature walks, and the chimp treks take you into the heart of the gorge.
Situated in the northeastern corner of Queen Elizabeth National Park,the gorge lies within Kyambura Game Reserve and was created as a buffer zone, protecting the park from encroaching human activities.
Kyambura has something for everyone. The adventurous can make their way through the unruly undergrowth to see the park's only chimpanzees, while the curious can find several fascinating birds and plants with a guided nature walk.
For those, looking to unwind and enjoy the view, you can take a picnic at the gorge's entrance or admire the exquisite scenery from the viewing platform high above.
Kyambura Gorge, within the reserve, is reminiscent of a lost world, somewhere intriguing and mysterious.
Towering 100 m high rock walls surround thick jungle, boggy swamps and large crater lakes, making it feel as though you have entered a pre-historic time.
While the reserve covers 156-sq-km, the gorge itself spans just 11 km but is 100 metres deep. The Kyambura River, which runs through the reserve, connects to the Kazinga Channel.
This unique landscape is an excellent refuge from the savannah's predators above and is the reason that the chimpanzees have made their home here.